Diego Farje, 28, recently began working as an assistant rider for Boyd Martin. Farje learned to ride as a child in his native Peru, where his father was a police officer and rode on a show jumping team sponsored by the police force. Farje spent his childhood and junior career competing exclusively in show jumping—until his father pushed him to try eventing for the first time at 18.
Peru had been announced as the host for the Bolivarian Games, to be held two years from then, and Farje made it his goal to learn the sport, make the eventing team and compete in the two-star event. He did all that, and went on to place fourth at the 2013 Bolivarian Games.
Unable to find other eventing opportunities in Peru following the games, Farje went back to show jumping and began his professional riding career under show jumper Rafael Annunciação. As the 2019 Pan American Games approached, Farje had a jumper for sale in the barn, and he asked the owner if they would be interested in switching gears and trying to train the horse to event with the goal of making the Peruvian team. The owner agreed, and in the two years before the games Farje was able to teach the horse everything it needed to know to place 11th at the games, the highest a rider from Peru has ever placed.
It was at those Pan American Games that Farje first met Martin, who won team and individual gold there for the U.S. Little did Farje know that day, as he asked for a fan photo with Martin after the medal ceremony, that in a few short years he would be working for the rider.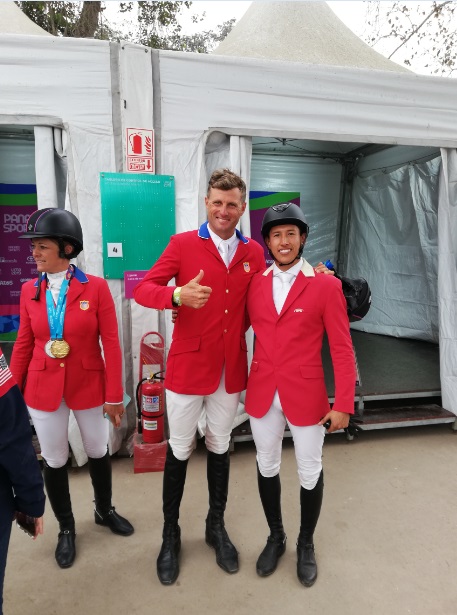 Farje moved from Peru to Ocala, Florida, in March 2020 to work for a rider from Ecuador who hired him to ride his young horses. While in Ocala, Farje met Caitlin Silliman, a longtime employee of Martin's, who asked if Farje would ever consider coming to work at Martin's operation. Farje agreed, and in December 2021 he began full-time at Windurra USA's winter base in Aiken, South Carolina.
Diego walked us through a typical day for him as an assistant rider for Martin.
6 a.m. I usually get up around 6 a.m. on a regular work day, but it's more like 5 a.m. if we are showing. We live above the barn in Aiken so it's a short commute to work downstairs.
6:30 a.m. There are six of us working in the barn, and we take turns taking the early shift, so every morning it is someone's turn to get there at 6:30 and feed hay. Then when everyone else shows up at 7 a.m. we feed grain and start all the barn chores: stalls, water, turning out horses that were in the stalls and bringing in the horses that were out overnight.
The night before, Boyd will have written a plan for the day in his notebook. He has a notebook where he keeps all the plans for the day. It has all the names of the horses we're training, and he puts everything in there: Who is doing what at what time, if a horse is getting tried that day or an owner is coming. So we organize the horses to start working.
8:30 a.m. We finish morning chores around 8 or 8:30. Boyd will arrive about that time, and Stephanie [Simpson], the barn manager, will have a horse tacked and ready for him to hop on.
He comes in and checks the schedule, checks the cleaning and makes sure everything is done the way he wants, and then he gets on the first one.
Stephanie is very organized, so after Boyd gets on the first one she gives out the duties for everyone with the rest of the horses, and we just start going; I usually ride six or seven horses a day, and it's pretty go-go-go all day. Boyd really likes the horses to start with a hack, so in the notebook for a horse it will say, "Hack, then flat," so we will take the horse and go for a long walk on this path up to the cross-country field and back, and then we will flat.
10 a.m. Boyd is pretty busy so he doesn't watch us ride every horse, but every time we jump, he tries to be there to correct us and fix whatever points he sees. Even if I'm not jumping I try ride in the same ring he is in when we're both flatting horses, because Boyd is really focused on the flatwork, and I want to watch and learn how he does things. I'm obsessed with learning why he is doing what he's doing—why he starts by schooling this movement not that one, things like that—and I'll ask him about it when there's time.
We also get to ride with Boyd's coaches, Erik Duvander and Peter Wylde, when they come to give lessons, so that's always an exciting day when we get to do that.
Noon-ish We don't really have a set lunch break time. I usually try to eat something around noon or 1 p.m. I try to cook a bunch of food on my days off or when I have time and have it ready in Tupperware containers that I can just heat up and eat quick between horses, but sometimes it's like we'll be riding, and stop and take a bite of food, and then keep going. Other times, we'll order food for the barn—lots of pizza. It's intense, but it's good.
All the horses also get half a scoop of grain at noon.
3:30 p.m. I usually finish riding my last horse around 3:30 or 4 p.m. When we start riding, Stephanie will have the horses tacked for us, and we go from one to the other so we can get them all ridden, but on my last one I'll give him a bath and put him away myself, and then we do whatever chores need to be done, like cleaning all the tack from the day.
6:30 p.m. There's always a lot to do, so we try to finish early, but it's usually around 6:30 p.m. Stephanie is in charge; she tells us when everything that needs to be done that day is done, and we can go. Whoever's turn it was to do the early shift also does the night check on that day, so someone comes back around 8 p.m. and checks all the horses, and there are a couple that get a little grain late.
7 p.m. At the end of the day I just eat a bunch of food, shower and go to bed; I'm usually in bed by 9, 9:30. There are a lot of different dressage tests I need to learn if there's a competition coming up. Boyd will tell me which horses I'm going to show that weekend, and I'll download the tests to an album on my phone and lie in bed and go through the tests.
Every morning and every night I try to text my fiancée in Florida. She's also a rider; her family is Rocking Horse stables, so she's staying there. I go and visit her on my days off. Sometimes, I'll drive to Florida to see her and leave at 1 a.m. to be back at the barn in Aiken at 7 a.m.
On days off, I'll also go for a run and then do an ice baths sometimes. Boyd has gotten me into that. They're great after runs or after a busy day competing. It's good for your muscles, but what it's really good for is your mind; you have to learn to be comfortable in an uncomfortable situation, so you kind of train your mind and control your breathing, and you control your emotions and your body and try to feel relaxed in the ice.
I think it helps you prepare for the pressure of competing. We try and stay in the bath for five minutes. It's a good pause in the day. You get time to kind of meditate and reflect.
https://www.chronofhorse.com/article/a-day-in-the-life-with-peruvian-eventer-diego-farje?fbclid=IwAR2mWH4ANzzlkHFB4Zbn9jBsV2tc1hp6mFfHlmJawd8OKrXhKtw3MElYZYw