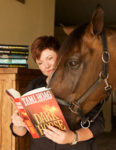 Before writing 14 best-selling books, Tami Hoag held a variety of jobs including training show horses. With her success as a writer of suspense novels, including the book Night Sins which became a TV miniseries starring Valerie Bertinelli and Harry Hamlin, Hoag turned her attention back to riding horses.
YOU HAVE WRITTEN 14 BOOKS THAT HAVE BEEN ON THE NEW YORK TIMES BEST SELLER LIST. YOU ALSO RIDE PROFESSIONALLY AND COMPETE AT AN INTERNATIONAL LEVEL OF DRESSAGE. HOW DO FIND THE TIME?
It's a balancing act. My usual day is riding in the morning and working afternoons and evenings. It doesn't leave much time for anything else, but these are the two things I love most, so I consider myself lucky.
YOU WROTE THE FORWARD FOR THE BOOK "THE BIG BOOK OF SMALL EQUINES: A CELEBRATION OF MINIATURE HORSES AND SHETLAND PONIES". WE UNDERSTAND YOU HAVE A PERSONAL CONNECTION TO SHETLAND PONIES?
Yes. I started out on ponies. I learned to ride and drive with your garden-variety backyard Shetland ponies. They were great babysitters and friends.
THIS IS YOUR 10TH YEAR RIDING DRESSAGE. WHAT IS IT ABOUT THE DISCIPLINE THAT ATTRACTED YOU TO THE SPORT?
The grace, the elegance, the control, the power. Everything about it, really. I love that dressage is based on a logical system of training horses that has remained basically unchanged for generations. Most of all, I love the partnership that develops between horse and rider.
TELL US ABOUT THE HORSES YOU CURRENTLY OWN, COMPETE AND RIDE? KNOWING YOU HAVE A GOAL IN MIND, HOW DO YOU PICK A GOOD PARTNER?
I have a great group of horses. Bacchus de Light 2 is my #1 Grand Prix horse. He is Swedish and came from Michael Klimke's barn in Germany. Bacchus is loved by all, the benevolent king of all he surveys. He promptly injured himself after I bought him, and it's been a long road getting him back, but he's worth the wait. My #2 horse is Rush Hour 4, a tall bright red chestnut Hanoverian with a world of talent. Then there's Fhilosopher, the class clown. He's a stunning liver chestnut Westfalen gelding. My project. He's something like fourth level schooling Grand Prix. Also a very talented athlete who needs a rider with a lot of feel and patience. I'm really enjoying getting into his head and working to bring out the best in him. Last but by no means least, is the fabulous Feliki, who will be 23 in March and is still hot as a pistol. She refuses to retire. She can still outwork every horse in the barn. We've been together ten incredible years in September. She was my first Grand Prix horse and I almost didn't buy her because I thought she was too old–at 13! Now I'm beginning to think she'll outlive me.
How do I pick an equine partner? I always look for a horse that will challenge me. I have never owned a schoolmaster. D'Artagnon–my first dressage horse–was a very tough ride, but I bought him knowing I would be a better rider for it. Feliki ran off with me all the time when I first got her because she thought I was stupid. I had to figure her out and earn her respect. I like a horse that's smart, maybe a little arrogant, or even insecure, so I have to win them over and gain their trust. That's what's rewarding to me. When you make a real partnership with a horse like that, they will give you everything they have.
SPEAKING OF PARTNER – YOU STARTED YOUR DRESSAGE CAREER TRAINING WITH BETSY STEINER. YOU'VE EVEN PERFORMED A PAS DE DEUX WITH BETSY FOR THE US TEAM AT THE CHALLENGE OF THE AMERICAS. SHE HAS BECOME QUITE A MENTOR. CAN YOU SHARE WHAT YOU'VE LEARNED FROM HER?
Betsy has been a great friend and mentor for a decade now, so it's hard to boil that down into a few words. But I'll tell a little story that says it all. When I met Betsy I was looking for my first dressage horse. She connected me with Guenter Seidel from whom I purchased D'Artagnon, a beautiful but difficult small tour horse. I grew up riding western and some jumpers, but had been out of riding for five years. I had only had a couple of years training in dressage on borrowed horses. But when I bought D'Ar, my goal for the year was to be riding Prix St. Georges by the end of the show season. Only one person in my acquaintance at the time didn't scoff, didn't tell me it couldn't be done, didn't bet against me. That person was Betsy. I told Betsy my goals and she took a big deep breath and said "Okay. Let's get to work." She was willing to believe in me. That's who Betsy is. She knows what it is to have a dream and goals, and to work hard to achieve them. Two months after we started working, I rode in my first show–the Raleigh CDI. I won two amateur 4th level classes and took home a bucket of ribbons, qualified for regional championships and Devon. By the end of that season I was not only riding Prix St. Georges, I ended up 5th or 6th in the national standings–thanks to Betsy.
WRITING PROFESSIONALLY REQUIRES A GREAT DEAL OF DEDICATION. SINCE YOU ARE SUCCESSFUL AT WRITING AND RIDING, DO YOU HAVE ANY ADVICE FOR OUR READERS ON HOW TO MAKE TIME FOR A CAREER AND HOBBY?
You have to be very dedicated and disciplined, and you have to be willing to sacrifice in other areas of your life.
YOU ARE SPONSORED BY TRILOGY SADDLES. WHAT IS IT ABOUT THEIR SADDLES THAT MADE YOU WANT TO RIDE FOR THEM?
The Trilogy saddle is the most well-balanced saddle I have ever sat on. It allows me to have perfect position without restricting me or the horse. The design of the panels is very mindful of the comfort for the horse's back. All that and it's beautiful too. And the customer service is beyond compare.
IS THERE A WEBSITE WE CAN GO FOR MORE INFORMATION ON YOUR BOOK SIGNINGS AND APPEARANCES?
www.tamihoag.com
Readers can also follow me on Twitter: tamihoag@twitter.com
TWO OF YOUR BESTSELLING NOVELS, DARK HORSE AND ALIBI MAN, ARE SET AMONG THE ACTION OF THE SHOW JUMPING WORLD OF WELLINGTON, FLORIDA. ANY CHANCE YOU MIGHT WRITE ANOTHER NOVEL AMIDST THE WORLD OF DRESSAGE?
I would definitely like to write more about those characters, though I don't have a story for them yet. I'll get back to them eventually.
WHAT IS YOUR NEXT EQUESTRIAN GOAL?
My main goal for this year is to take my time and build my partnership with Bacchus. He's such a special horse. I think we can go far together, but I won't rush it. It's most important to keep him sound and happy, then we can have a long career together.