You started out working for Harbour Sweets as a part time chocolate dipper. Did you ever think you'd end up owning the company?
Absolutely not! Events in our lives are often determined by a fluke – I was studying business at the time because it didn't require a foreign language. I worked my way through college and saw a sign posting the chocolate dipper job and thought "that sounds like fun"! The company was still small and growing so I had the wonderful experience of learning and working all aspects including marketing and finance.
When did you decide to purchase the company?
It was a few years after working for Harbour Sweets. The company has taught me to be creative and use my business sense too. We are celebrating our 40th year anniversary!
How did the Dark Horse Collection start out?
I went back to school to get my MBA and took a course on entrepreneurship where I had to write a business plan. There weren't a lot of horse themed gifts at the time and since I was always looking for something special to give trainers and friends at the barn, the idea of giving equestrian themed chocolate became my school project. I knew horse themed chocolates could relate to all aspects of the horse world. I became obsessed with the idea! We tried it and Dark Horse Chocolates took off and paid for the development of the idea!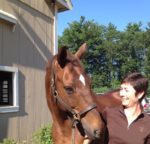 How did Dark Horse get its name and inspiration?
I've been riding horses all of my life, I even delivered newspapers on my childhood pony! I named the collection "Dark Horse" after a horse I owned named "Able" – a cole black Hanoverian dressage horse. He was very dear to me. "Dark Horse" actually means a winner coming out of no-where. The line is inspired by different kinds of riding from jumping, dressage and ponies.

How do you promote your chocolate?
We reach out to all disciplines of riding and have had a booth at the Kentucky Rolex 3 day event, Washington International Horse show and Dressage at Devon. Our personalized chocolate line has clients like the Boston Symphony Orchestra, The Smithsonian Museum and we work with fund raising efforts for schools like Harvard and Boston University.

How would you describe your clients?
Our clients love chocolate, love horses and of course chocolate crosses all boundaries!
For more information about Harbour Sweets www.harboursweets.com

Phyllis LeBlanc, is the CEO/Owner of Harbour Sweets, a Salem, Mass. chocolate company offering all natural handmade chocolates, candies & truffles. Inspired by the magic of the partnership between horse and rider, the company paired the finest ingredients with designs that capture the noble beauty of the horse in "Dark Horse Chocolates". Phyllis tells Equine VIP, "There are times I feel guilty – Harbour Sweets couldn't possibly be work if it's so much fun!"