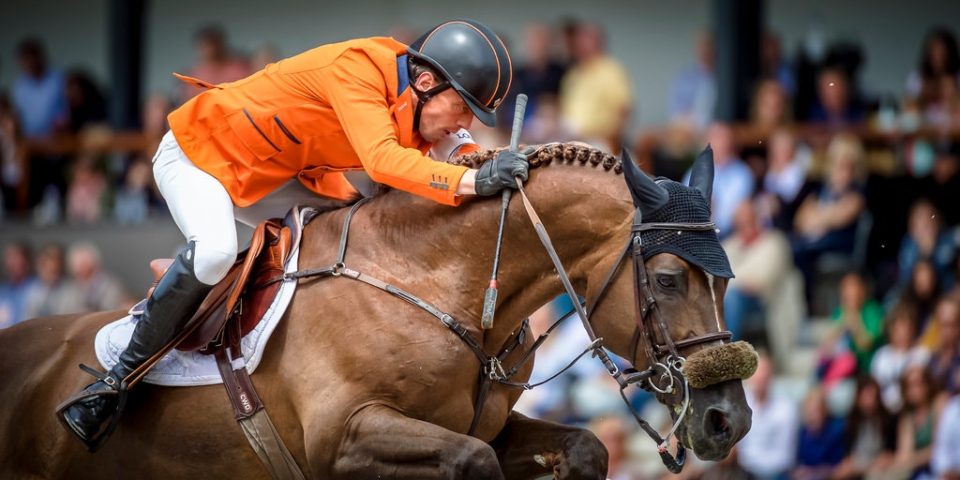 Some athletes are good at lifting heavy weights. Some are flexible, with great balance. Some can run for miles. The same is true of horses.
They have a wide variety of skills, and within equestrian sport there are disciplines designed to showcase them, including riding intricate patterns in reining, leaping over high obstacles in show jumping and running up to 100-mile races over tricky terrain in endurance.
The full range of the horse's ability will be on display at the F.E.I. World Equestrian Games in Tryon, N.C., from Tuesday through Sept. 23, during which horses and riders from around the world will compete. The games, held by the Fédération Équestre Internationale, the sport's governing body, happen every four years and represent the top level of competition for many disciplines.
The games will include eight of them: dressage, driving, eventing, para-equestrian dressage, vaulting, endurance, show jumping and reining. This year, the games will offer riders in several of those disciplines the chance to qualify for the Tokyo Olympic and Paralympic Games in 2020.
Each discipline tests the horses and riders in different ways and requires a unique training regimen. Riders who will be competing in show jumping, reining and endurance competitions said that to maintain the strength and flexibility of their horses, they alternate between higher-exertion and lower-exertion work and do dressage, which requires horses to perform patterns with balletic movements and underpins most other disciplines.
"All disciplines need the basics of dressage to start with, because the horse needs to be supple, it needs to sit on the haunches, it needs to learn how to be balanced," said Marvin Brangman, who will ride MM Godiva Chokalat, a 12-year-old bay Arabian mare. He will be the first rider to compete in endurance for Bermuda at the games.
Here's a closer look at the training involved for endurance, show jumping and reining.
Endurance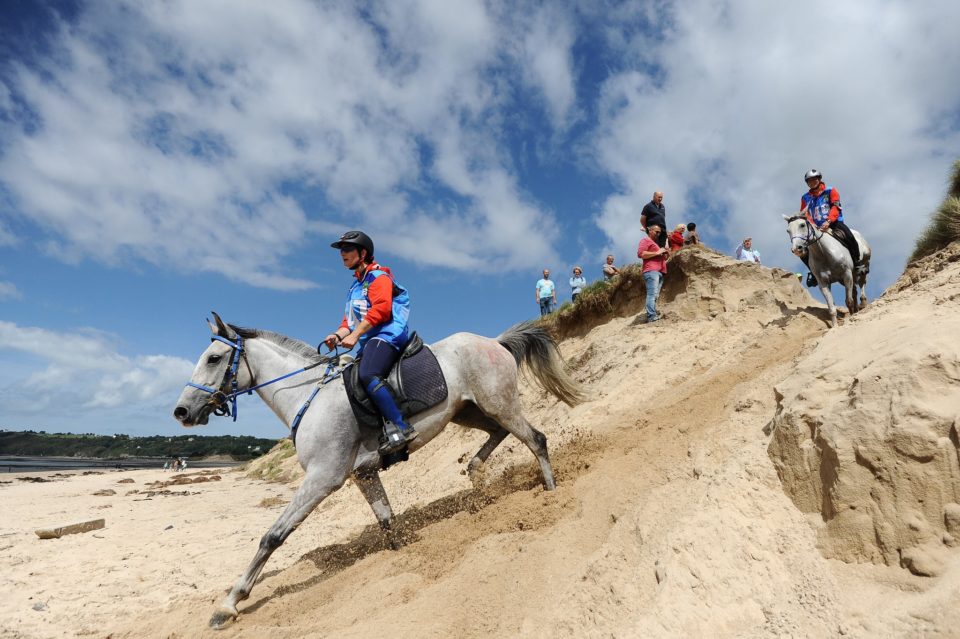 Ken Marcella, a veterinarian for the United States endurance team, said endurance horses were similar to long-distance runners.
A race requires a horse and rider to cover up to 100 miles of trail and can often last for about a day. In an endurance race, every 20 to 25 miles the horse will have to stop at a checkpoint to be examined by a vet and to rest. That rest period doesn't start, however, until the horse's pulse drops to a resting rate of 64 beats per minute, sometimes from well over 100. The first horse to cross the finish line and pass a final vet check is the winner.
Because of that, "when we're training, you really have to train the heart and lungs and train them to recover quickly," said Danielle Crouse, who will compete for the United States on AM Mysterious Mopsa, a 12-year-old Arabian mare.
Horses need different levels of fitness and muscle for different disciplines. For example, endurance horses need to be lightweight and lean without extra muscle to allow them to cool down quickly, Marcella said.
Crouse said she varied her horse's training to prepare for long distances over all types of terrain. She said she would do a combination of ring work, galloping up and down hills to build stamina and swimming to build lung capacity and cardiac recovery without putting additional strain on the ligaments and tendons.
There is also lots of walking, trotting and cantering on the trails to put miles under the horse's feet.
Her bond with her horse is also important to help shape the training. "We try to be really flexible and listen to what the horses tell us," she said.
Show Jumping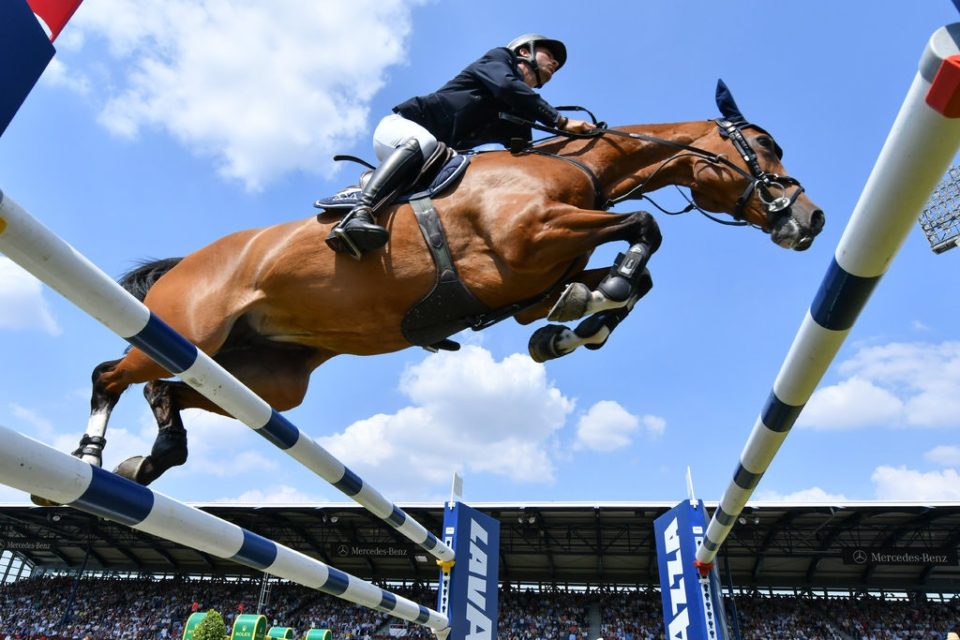 Marcella compared jumping horses to weight lifters, who do short, intense workouts that require muscles to allow them to lift their bodies over jumps that can reach 1.6 meters, or more than five feet, high.
The training for top-level jumping horses primarily involves maintaining their muscle and mind-set.
Quality, not quantity, is the key to training these horses without injury. They jump once or twice per week in training and do dressage and other exercises the rest of the week, said Steve Guerdat, a Swiss show jumper, who will be competing at the games on Bianca, a 12-year-old bay mare.
The horses used in jumping, often bred for the sport, are naturally big and muscular. To build on that innate strength, riders will jump them at increasing heights in various combinations that require the horse to shorten and lengthen their strides between jumps. They will also work in patterns, with maneuvers such as circles and serpentines, which require the horses to be flexible and work different muscles in their body, Marcella said.
The bond between horse and rider is crucial, said Harrie Smolders, the top-ranked Dutch show jumper who will ride the 14-year-old chestnut stallion Don VHP Z at the games.
"If you learn what the horse's strengths and weaknesses are, you can make the weaknesses more invisible and exaggerate the strengths."
Reining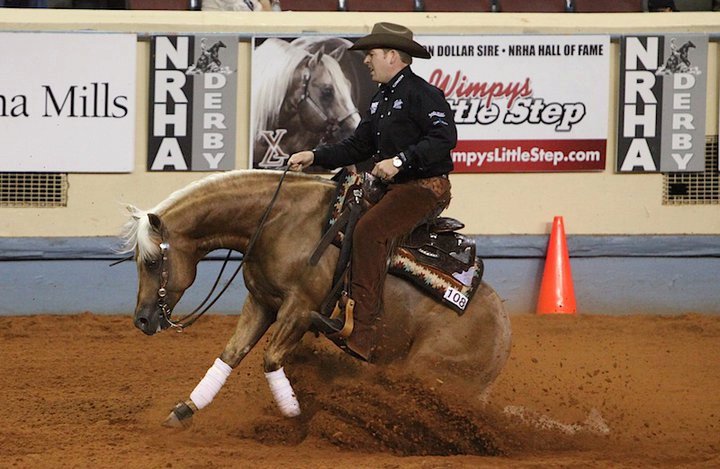 Reining horses execute patterns made of circles, spins, turns and sliding stops. Marcella compared them to shortstops in baseball, with enough muscle and flexibility to run, turn and stop quickly.
"To make a great reining maneuver the horse has to be really good in correct form," said Jordan Larson, , who will be riding the 7-year-old palomino quarter horse ARC Gunnabeabigstar at the games for the United States. The horses are trained from a young age to do the maneuvers that make up the patterns, and they also need to be kept flexible and sharp mentally, he said.
Larson said he focused on one thing each day, whether it was sharpening a maneuver or his horse's state of mind.
By Hannah Wulkan Sept. 9, 2018 https://www.nytimes.com/2018/09/09/sports/horse-training-equestrian-games.html