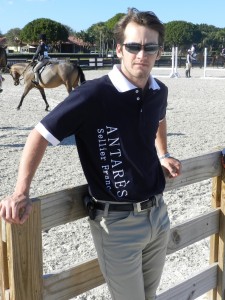 James H Fairclough II is most known for a successful career of show jumping, but recently James took a little break to participate on the HISTORY Channel's series "Full Metal Jousting". The 10 part series features full contact jousts with competitors going head-to-head on horseback. The alum of IHSA (Intercollegiate Horse Show Association) said "I wanted to show everyone that show jumpers are just as tough as anyone else". Equine VIP caught up with James coaching young riders in Wellington, FL and asked him for more details:
You have a successful career in show jumping and the horse industry – what is your background?
I grew up around horses. My Mother was a Grand Prix rider and my Father was a 4-in-hand carriage driver. In fact, my Father competed at every WEG (World Equestrian Games) since 1980. I started riding ponies and couldn't wait to start jumping horses. I think I wasn't serious about horses at first, maybe because I grew up around them. I love extreme sports and competed in ski racing, lacrosse and hockey. Once I was in college, I fell back into riding horses
and this time, got serious.
How important was your involvement with the IHSA?
It's a great program. A lot of young people get involved with horses that normally would never have the opportunity. I rode with the IHSA my Junior
and Senior year at Drew University. The IHSA gives everyone a level playing field and fair chance to compete.
What happened next?
I decided to go to Europe and ride and really dedicate myself to show jumping. I ended up spending 4 summers in Europe riding for Stal Hendrix in Holland www.stalhendrix.nl Stal Hendrix is known worldwide in show jumping and a trading stable since 1947. It's a family business that has been passed from
Grandfather to Sons and now to Grandsons. I rode and trained with Neil Hendrix – who has ridden in many World Cups and the Olympics for the Dutch team.
What brought you back to America?
I had the opportunity to ride with Frank Chapot and later, Anne Kursinski. While riding for Anne, I learned about the auditions for Full Metal Jousting. The audition called out for riders with "strength, endurance and courage". I believe
I have those characteristics because they are necessary to be a competitive show jumper, so I thought to myself "why not try out"?
What was the audition like?
There was a week of boot camp at a Mississippi farm. It was really tough training and getting used to the equipment. The jousters are equipped in
modern suits of steel weighing 80 pounds with 11 foot long solid fir lances. One of the exercises was riding without stirrups while carrying the lance! I found
myself competing to be a finalist against an ex-Marine stunt man, a mounted police officer, a polo player, professional athletes, WWE wrestlers and a bull rider.
You were picked as a finalist – any surprises?
I was surprised how hard it was to ride in armor and wear a full helmet – that really affected my riding seat and balance. My peripheral vision was altered and I totally lost feeling of the horse.
What type of horses are used for jousting?
They aren't any specific breed. 99% of the horses have been rescued and because they have to carry a heavy load of rider and equipment, most are draft type Percheron. You have to trust and connect with your horse and his ability. Your horse is the most important factor of jousting.
I know you can't tell me who won (Equine VIP interviewed James before the show ended), but would you do it again?
Yes! High speed cameras followed us and the show really captures the excitement! For more information about James go to www.cavaliershowjumping.com