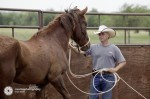 Juan A. Vendrell spends his time between his ranch in Texas and travels through-out the US and Europe. Juan was born in Barcelona, Spain and started riding at the age of six in the Spanish tradition (Doma Vaquera). Like many young boys, he watched Western movies which grew into a passion for Western riding. His curiosity about the relationship between man and horse brought him to the United States and later other European countries. Today Juan gives clinics to help people and their horses all over the world, teaches horsemanship courses at his own TC ranch and has written a book called "Horsemanship".
Can you tell us more about the Spanish tradition of riding you learned as a boy?
The Spanish method is not much different than the American "Vaquero" style. They both use the best way to work a horse and cattle on a ranch. Of course, the Spanish version uses a different breed of horse. Both methods teach the horse to remain calm and have respect for the rider.
What brought you to America and eventually your home in Texas?
I chased my dream! I came to study from trainers whose videos I had been watching and who had the kind of knowledge and understanding of horses I wanted to know more about. It's amazing what trainers like Craig Cameron, Buck Brannaman, Chris Cox and Martin Black can do with a horse in a short amount of time.
You've mentioned, Alfonso Aguilar, as a trainer who had the biggest impact on you. Why?
He taught me that it is our responsibility to present things in a way it is easy for a horse to understand. We demand a lot from horses. He shows great patience and always tries to give something back to the horse when the horse gives something to you. He puts the horse first, not his own showmanship, and is honest with everybody – that honesty has its way with a horse.
You participated in the Supreme Extreme Mustang Makeover – what was that like?
I'm not a fan of competitions if you have to put your ego in front of the horse's needs. This competition was different because you are training 5-6 year old mustangs in four months. I had never trained a mustang before so it was a special learning process for me. It tested my patience, humility, dedication and was a great experience. I wanted to present my mustang with dignity, but you never know if you can perform in a new place and with crowds!
As an International trainer – what is next for you?
I'm excited about teaching and doing demonstrations at Equitana – the world's largest horse fair in Germany. My wife and I open our ranch to offer personal Horsemanship courses and experience the Western way of life through-out the year. It's a chance for people to learn more about a horse's behavior, improve their riding skills and start colts. I enjoy teaching clinics all over the country to teach groundwork and riding.
For more information about Juan A Vendrell www.tcranchhorsemanship.com