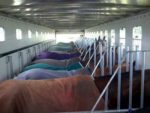 Be sure to ask your horse shipper a few questions about their transport process to ensure a safe and worry-free transit for your horses. Here are a few you should ask your horse shipper.
Are you a legally licensed hauler?
Your insurance company may not cover your horse if you use a transporter that is not licensed with their own coverage for horses.
Will my horse be insured?
Some shippers require that you already have horse insurance, and other shippers include that in the transport fee.
How much experience do you have shipping horses?
It's important to know if your shipper has experience in the horse transit business.
How many horses do you ship at one time?
This let you know how crowded a trailer might be for your horse as they are transported.
How often do you stop during the trip?
Many transporters will stop between four and six hours so the horse can relax and urinate. They can water the horses at that time and let them rest for about 15 – 30 minutes before continuing the journey.
Do you have a layover? 
Some long hauls require layovers, but not all horse shippers will handle layovers.
How often does my horse get watered?
This will ensure your horse's well being is being taken care of.
Do you haul with their heads tied?
Horses should be left loose in order to prevent shipping fever. Letting them lower their heads and blow during the trip enables them to clear their nasal passages of any dirt and debris.
Do you have any references? 
The shipper should be happy to provide references on request.
Do you require a deposit to reserve a space? What percentage?
This is helpful to understand what payment terms you should be ready to meet.