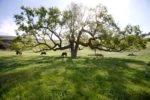 The hills are alive with annual grasses and the wildflowers are starting to show their colors after the recent abundant rainfall. However, the moist conditions also present potential concerns for your horse's health and well being.
1. MOSQUITOS
With the return of water in the creeks, rivers and reservoirs, comes the potential for increased mosquito populations and the diseases associated with them. Please ask us about our current vaccination recommendations. With the aggressive start of the 2017 mosquito season it is highly recommended to get your horses vaccinated and protected early. Of particular concern is West Nile Virus, and horses vaccinated for West Nile Virus have been shown to be 30 times less likely to contract the disease1.
Equine Diseases Transmitted by Mosquito Bite:
• Eastern Equine Encephalitis (EEE) • Western Equine Encephalitis (WEE)
• Venezuelan Equine Encephalitis (VEE) • West Nile Virus (WNV)
2. PARASITES
The increased moisture levels in local pastures increases the risk of internal parasite infection. A simple Fecal Flotation Exam can be performed at the clinic, and a specific deworming protocol can be catered to your particular horse. This reduces the over administration of deworming medications as well as reduces the risks of parasite resistance to these products.

3. LUSH GRASS
One side effect of your horse ingesting lots of the green grass we have this year, is unhealthy weight gain. But an even more serious concern is the possibility of laminitis, even if your horse is living in a pasture they have been in before. Be sure to pay attention to whether your horse is walking comfortably, and consider limiting their grazing time.
4. TOXIC PLANTS
Lastly, one more spring related concern is that of toxic plants that grow abundantly here in the Santa Ynez Valley. Fiddleneck (Amsinckia grandiflora) and Yellow-Star Thistle (Centaurea solstitialis) are two yellow-flowering plants (not to be confused with yellow mustard) that are highly toxic to horses. Fortunately, these plants are not highly palatable and often horses will not usually freely ingest them. It is recommended to not allow horses to graze in pastures populated with these toxic plants.
Please contact us at 805-688-6510 if you have any questions about your horse's health.
1 Epp T, Waldner C, West K. Efficacy of vaccination for West Nile virus in Saskatchewan horses, in Proceedings. 51st Annual Convention of the American Association of Equine Practitioners 2005;180-182.